< BACK
Wakonda Women's Golf Prominent from the Start
Written by Guy R. Cook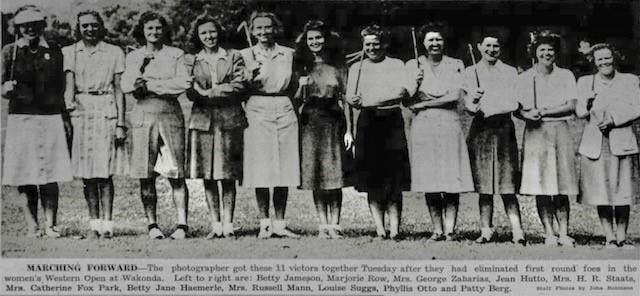 For centuries women have played golf. Woman and golf have a long history together. Mary, Queen of Scots, is said to have teed it up in the mid-sixteenth century. During her reign the famous St. Andrews Links course was built. She is credited with coining the term "caddie" derived from the "cadets", used by her when referring to her assistants.
Although American golf began as an elitist and male dominated sport, women's golf has been part of Wakonda's history since its beginning. The interest of women in the sport and the popularity of woman's golf at Wakonda was well documented by the Des Moines Tribune in 1926. The Iowa state Women's golf tournament was held at Wakonda in August of the same year, where the course was "a riot of colors and fashion."
Two years later, in 1928, the Des Moines Tribune profiled the woman golfers of Wakonda. The chair of women's golf at Wakonda was Mrs. James W. Hubbell, described as an "enthusiastic player."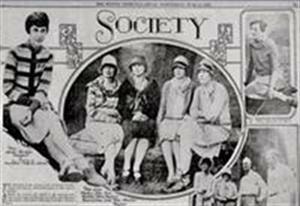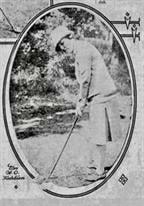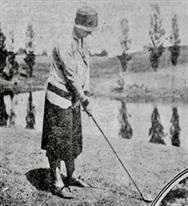 Wakonda can also lay claim to many excellent women golfers and notable woman's tournaments, including two women's majors, the 1946 and 1956 Women's Western Open.
The greatest female athlete of the 20th century and the founders of the LPGA have teed it up at Wakonda. Greats such as Mildred "Babe" Didrikson Zaharias, Louise Suggs, and Patty Berg, and others have played Wakonda.
Mildred "Babe" Didrikson Zaharias
Her contributions to competitive women's athletics are unprecedented. She could "out-run, out-jump, and out-shoot any women and most men." Zaharias was an Olympian who was often called the "greatest female athlete in history." She starred in track and field, winning the gold medals, and setting world records in the 80-meter hurdles at the 1932 Olympic Games. She was also an All-American basketball and baseball player, earning her nickname "Babe" after hitting five home runs in a signal game, in the style of home run king Babe Ruth.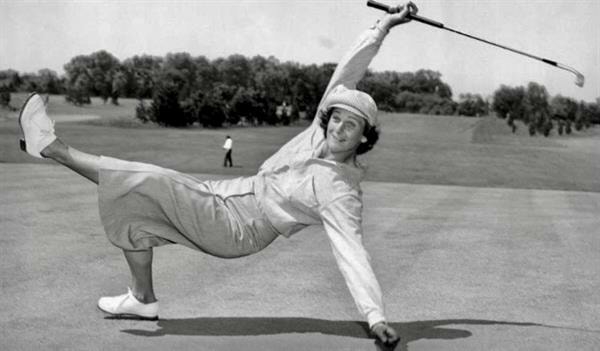 It was golf, however, where she made her final mark. Zaharias was a "superstar" who made the LPGA possible. From July of 1946 through August of 1947 "Babe" won 17 tournaments in a row, including the Trans-Mississippi, the U.S. Women's Amateur, and the British Women's. She won the U.S. Women's Open in 1948, 1950, and 1954. She was at Wakonda in June of 1946 as "the favorite" to defend her title as winner of the 1945 Women's Western Open. A true legend and founder of the LPGA, "Babe" was the first women to challenge men in a professional tournament. When asked how she could regularly drive the golf ball more than 250 yards, though she didn't weigh more than 135 pounds, she said, "You've got to loosen up your girdle and let it rip."
On the "400 plus yard first hole Babe was on the green with a drive and a 5-iron and on the 417-yard fourth hole she got home with a driver and an 8-iron."

Louise Suggs
Born in Georgia and a contemporary of the great Bobby Jones, Suggs was an LPGA founder and among the best women to ever play the game with 61 wins and 11 majors. The LPGA Tour rookie of the year award is named after Suggs. She won every season of her professional career and was the first player to capture a grand slam. Suggs once said, "Golf is very much a love affair, if you do not take it seriously, its not fun, but if you do, it breaks your heart. Do not break your heart, but flirt with the possibility." Suggs was perhaps the most influential player in LPGA history. Along with being one of the founders of the LPGA, she served as president three times. She was inducted into the World Golf Hall of Fame and the LPGA Teacher Hall of Fame. She was an author of the classic "Golf for Women."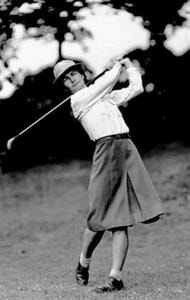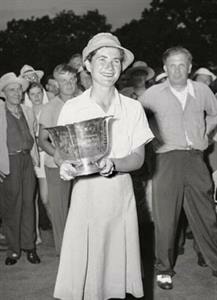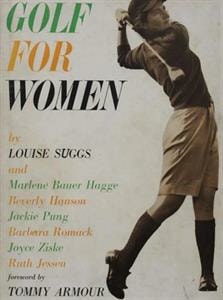 Louis Suggs, the "ladylike little golfing killer" hits a tee shot at Wakonda on June 25, 1946, on her way to winning the 1946 Women's Western Open after "conquering the mighty Babe Zaharias." Suggs "blistered the course" with 8 one putts. Bert McGrane of the Des Moines Register wrote, "little Louise, throwing 112 pounds of courteous murder behind her shots, made puts and deadly irons do what her irons couldn't do to nose out Babe Zaharias, one of the greatest of all women's champions, 1 up."
Suggs won the Western Women's Open, June 29, 1946, by defeating not only the legendary Babe Zaharias, but the "famed Patty Berg," and adding Berg and Zaharias to her array of victims in a smashing tournament finish" that started under a "merciless sun" and concluded on a "rain-drenched course." Suggs rallied to beat Berg by scoring two birdies on the last four holes.
The Women's Western Open Championship, held twice at Wakonda, has the distinction of being the first women's major. Initially the winner received a special logo pin to be worn for year. Subsequently, a "beautiful silver bowl" was made from trophies won by Mrs. Paul (Edna) Walker and her husband of the Glen View Club in Illinois, host of the inaugural Woman's Western Open.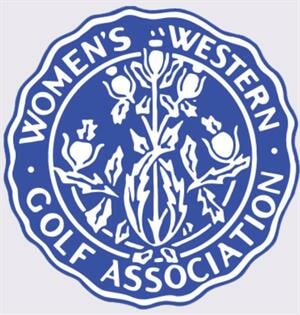 Patty Berg
Patty Berg was a founding member of the LPGA and first President. Her 15 major wins remains an all-time record for most major wins by a female golfer. Only 5'2", she was a "freckle-faced spark plug" from Minneapolis, who won 29 amateur victories. She turned pro in 1940, and in the span of 1948 to 1962, won 44 professional titles. She is credited with 60 professional wins. She was one of the first woman professionals to earn a golf equipment sponsorship. She also became the first woman to record an ace during an USGA competition with her hole-in-one at the 1959 U.S. Open. Berg was known as a "ferocious" player who often "wore comical hats." Berg was a "demonstrative and engaging performer" and "vivaciously concluded every speech" with the words "God bless you all, God bless the LPGA, and God bless America."