< BACK
Wakonda has Hosted Many of Golf's Greats
Written by Guy R. Cook
Our beautiful golf course has opened for its 99th season. As Rick Brown, 11-time Iowa Sportswriter of the Year and author of the comprehensive book on Iowa golf, "Golden Harvest", has documented, "no Iowa course has hosted more golf royalty than the Wakonda Club in Des Moines."
Indeed, since the course opened for play in the early summer of 1922, more than 60 major champions have played Wakonda (more about some of those memorable rounds in future articles).
The first was Scottish golfer, George Duncan, winner of the 1920 Open Championship, the first after WWI. Duncan triumphed in one of the greatest come backs in Open history, after trailing British golfer, Abe Mitchell, by 13 strokes, he ultimately snatched the title by two shots. Duncan became known as the "pro's pro", with none other than Bobby Jones seeking his advice at the U.S. Amateur at Muirfield. Duncan was renowned for his speed of play and reportedly had no use for practice swings, considering them unnecessary, "barely legal" and amounting to "practicing on the course." He finished in the top five at the Open for the next four years, including a dramatic one shot loss to Walter Hagen at Royal St. George's Golf Club in Sandwich, England in June of 1922, just 30 days before he played Wakonda. Duncan also won the French, Irish, and Belgian Opens and authored the book "Golf at the Gallop."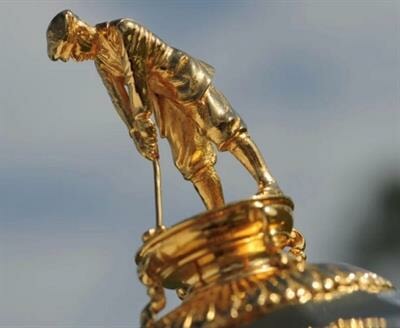 Abe Mitchell won a number of tournaments in the US and Great Britain. He was one of the longest hitters of his era and "probably the finest golfer" never to win the Open. For three years, including the during time he played Wakonda, Mitchell was a personal golf tutor to Samuel Ryder. Mitchell was to be the player-captain of Great Britain's first Ryder Cup team, but was unable to make to voyage to the US due to an attack of appendicitis. The gold Ryder Cup trophy (pictured above) was donated by Samual Ryder and as a thank you to Mitchell for teaching him the game, Ryder had a figure of Mitchell placed on top of the trophy.
Duncan, along with Abe Mitchell, played Wakonda on the sunny after-noon of Saturday, July 22, 1922, against club pro Jack Welch and club member James "Jimmy" W. Hubbell. Hubbell, grandfather of current members, Jim, Rusty, Fred, Mike, and Corky Hubbell, was a club founder, celebrated golfer, and winner of the 1916 national collegiate golf championship playing for Harvard. The result was a 3 to 2 win for Duncan and Mitchell, with "plenty of thrilling shots for the benefit of the large gallery that followed under a very warm sun." The tee shots of Duncan and Mitchell were "perhaps the greatest thrill" with "their play so unusually remarkable that the gallery was repeatedly heard to catch its breath." Duncan set a course record of 75.


Pictured: Mitchell getting ready to putt and Duncan at the left watching.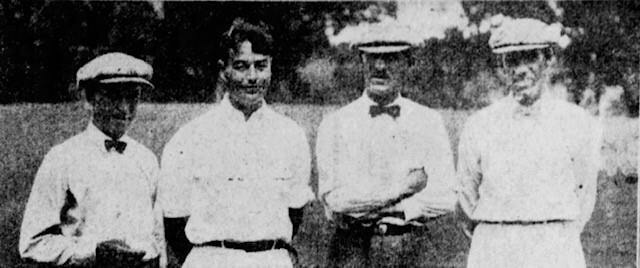 Pictured: Club pro Jack Welch, James "Jimmy" Hubbel, Abe Mitchell and George Duncan
In September of 1922, Walter Hagen (pictured on the right), less than three months after beating Duncan to become the first American-born to win the Open (the first his four Claret Jugs) teed it up at Wakonda.
Hagen won 11 professional majors, more than any golfer not named Jack Nicklaus or Tiger Woods. He was known for his outfits, style, and flair which helped spread golf's popularity. He would be known as the "father of professional golf" and totaled 45 PGA wins in his career. Hagen was among the first golfers to capitalize on endorsements and was the first athlete to earn a million dollars in his career. Hagen once expressed his creed as "don't hurry, don't worry, you're only here for a short visit, so be sure to smell the flowers along the way."
Hagen played Wakonda on a crisp Sunday, September 17, 1922, with Australian golfer Joe Kirkwood Sr., winner of the Australian Open, and credited with having first put Australian golf on the world map. Kirkwood was known as "trick shot" artist. His skills remained at a high level for most of his life. At age fifty-one he and his son Joe Jr., both made the cut at the 1948 U.S. Open. One of his most remarkable feats was playing a 10-under round of 62 and "breaking his age" when he was sixty-three. Over his lifetime Kirkwood scored 29 holes-in-one, two which came in the same round.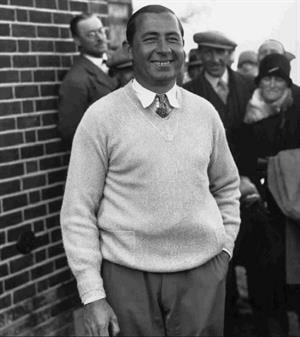 Hagen and Kirkwood played in the morning against club pro Jack Welch and Jimmy Hubbell, winning 5 up. On the eighth hole Hagen hit his tee shot 300 yards, "but was misinformed regarding the location of the pin and his second shot went out of bounds." He dropped a ball and "made a wonderful 200 yard shot to the green." In the afternoon, Hagen and Welch defeated Kirkwood and Hubbell 2 up, with a large crowd witnessing Hagen nearly break the course record of 75, set by Duncan in July. On the eighteenth hole, Hagen's six foot put for birdie "rimmed the cup", however, tying the record. Nevertheless, Hagen's score was said to be a "better mark for the reason [Hagen] holed out nearly all his putts but Duncan did not." Veteran golfers said Kirkwood put on a "sensational trick shot exhibition" described as "the best thing of its kind seen here" that "kept the spectators gasping." He also gave a "very life like" imitation of "George Duncan's speedy play."
So as you enjoy our special piece of ground known as Wakonda Club, consider the creed of Hagen: "Don't hurry, don't worry, you're only here for a short visit, so be sure to smell the flowers along the way."