< BACK
The Eminent Golf Pros at Wakonda
Written by Guy R. Cook
The Wakonda Club has been blessed with outstanding golf professionals over the last 100 years, including the present pros, Aaron Krueger, Grant Feilmann, Sarah Bidney, and Tyler Christians, as well as an assistant pro who became an ordained priest and another who became the head pro at the holy grail of American golf, Augusta National.
Wakonda's first golf professional and grounds superintendent was Jack Welsh. He served the Club for 32 years. Jack is widely credited with establishing the prominence of Wakonda's legendary greens. He was a founding member and leader in the Iowa Greenskeeper Association, later becoming the Iowa Golf Course Superintendent Association. Jack was unanimously elected the first president and re-elected president five years in a row.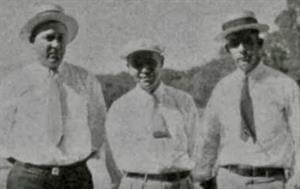 Jack was a "youthful pro" at the Philadelphia Cricket Club in 1910, when "old Alex Smith beat J.J. McDermott for the U.S. Open title." Jack later "pulled out for Iowa" and eventually landed at Wakonda in 1921. In February of 1923, Jack opened an "indoor golf school" at Wakonda. The indoor school was established on the second floor of the original Wakonda clubhouse. The "use of the indoor equipment" was free to the members, "the only charge being for lessons from the pro."
During Welsh's "regime at Wakonda, the course was the site of such major championships as the National Collegiate, Western Amateur, Women's Western Open, Men's Trans-Mississippi, the Iowa Open, and number of amateur tournaments." Jack served two terms on the USGA advisory board.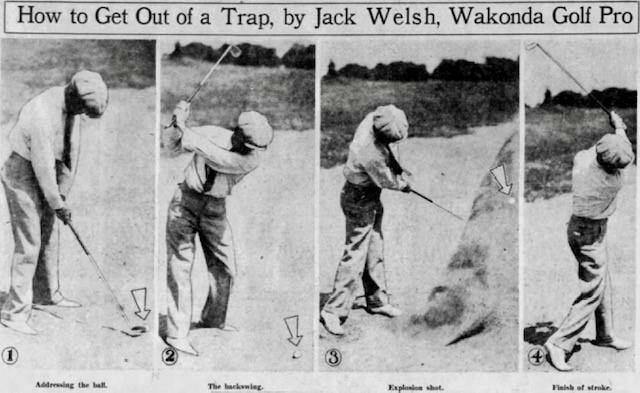 Jack resigned after more than three decades at Wakonda in December of 1952, with plans to spend his winters in Florida. In June, prior to his resignation, the Club held a "Jack Welsh Day" in his honor. He was "presented with a trophy and a substantial cash gift." Ray Oothout, Club President, said Welsh would be replaced by two men, Norman Westfall, as greenskeeper, and Al Braak as golf pro.
As Bert McGrane of the Des Moines Register noted, "Welsh came to Iowa in another era, when blue grass, clover, and an occasional weed covered the putting surfaces…" Welsh "remained in Iowa to earn recognition as one of America's foremost turf masters." He "built the greens which made Wakonda famous."
Al Braak, who served as assistant pro to Jack Welsh and later as pro at the Elmwood CC in Marshalltown, took over as the second head pro at Wakonda in 1953. In 1929, a young Braak set the course record at Wakonda of 69, a then par 74 (holes 3 and 10, were par five's, 465 yards and 462 yards, respectively). Al served eight years as Club pro until January 1961. During his tenure, his son Tom was an assistant pro for five years. Tom was later ordained a Catholic Priest in January of 1959. Father Tom remained a golf enthusiast as a priest, traveling to historic courses in Scotland and Ireland.
In 1961, Bill Rose, a Korean War veteran and assistant pro at the Evanston CC in Evanston, Ill., under the tutelage of former PGA Champion, and 25 time TOUR winner, Johnny Revolta, became the third head pro at Wakonda.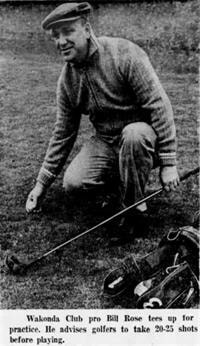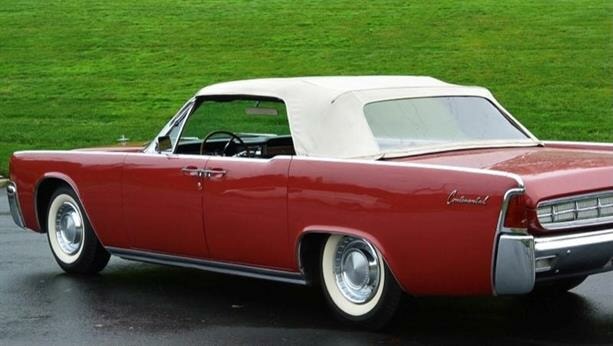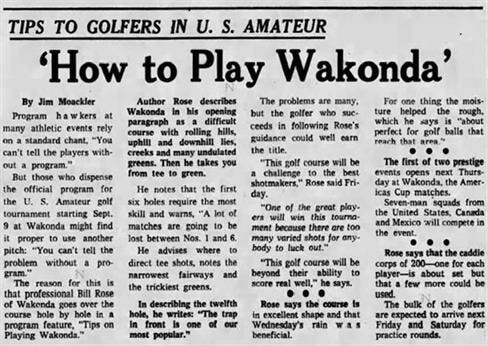 Bill learned to teach the game under the renowned Revolta at the Evanston Club before becoming the head pro at the Peroria, Ill., CC. Bill, originally from Duluth, Minn., played hockey and basketball as a youth and began caddying at an early age. He was a golf standout by the time he was teenager. Bill became an accomplished amateur golfer prior to entering military service for the Korean War. Bill said, "I always wanted to be a golf teacher," and "a friend of mine put me in touch with Revolta." Under Revolta, Bill honed his natural ability to take apart a golf swing in slow motion. Bill was also an early innovator in golf instruction, "revealing" upon his hiring that he used "movies of his students in instructing." Following his hiring, Bill regularly appeared on KRNT-TV, Channel 8's Ron Shoop's 10 p.m. sports report giving "golf tips."
During Bill's tenure at the Club, Wakonda was, "The sun around which everyone's social and recreational orbits centered." While he was the head Club pro, Wakonda was the site of the America's Cup and 1963 U.S. Amateur. As host pro for the National Amateur tournament, Lincoln selected Rose as one of 25 athletic figures to be the recipient of new red Lincoln convertible to be "lent for the year."
Bob Kletcke, became an assistant at Wakonda after Johnny Revolta recommended him to Rose. Bob would study golf instruction under Rose. Bob later said, "That turned out to be a wise decision because I learned so much from Rose." During the 1963 America's Cup Bob was noticed by some top players and he was recruited for an assistant pro job Augusta National. Bill was asked if Bob would be available, to which Bill replied, "He's packing his bags now." Three years after leaving Wakonda, Bob would become the head pro at Augusta, where for 38 years he taught and played with some of the best, not only golfers, but celebrities and Presidents, including Dwight D. Eisenhower. Bill also mentored Perry native, Dave Spencer, who would also become an assistant at Augusta and later co-head pro with Kletcke.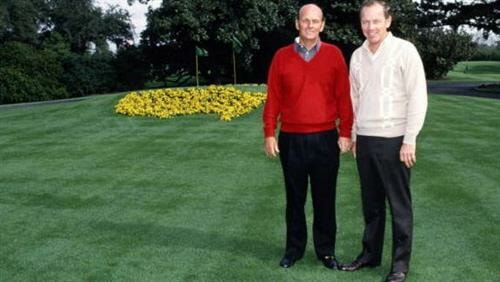 Rose was sought out golf instructor. In June of 1967, his former assistant, and head pro at Augusta National, Kletcke, asked for Bill's instruction prior to the qualifying round for the 1967 PGA Tournament, only a month after shooting a course record "sizzling 63 at famed Augusta National." Kletcke said, "there are over 6,000 Club pros, which means there about 6,000 different ways to teach the game, but I like Bill's methods. He has taught me everything I know."

One of Bill's pupils was legendary golfer and the most decorated Iowa amateur, Mike McCoy, who's golfing pedigree began at age 10 as a caddy at Wakonda. Bill started giving McCoy lessons as he was entering high school. Mike said, "Bill enthusiastically worked with me to develop my technical skills, but his real legacy was his positive approach to the game. Importantly, Mike added, "Bill taught me skills to believe in myself that I still dawn upon to this day."
Another of Bill's protégés, Charles Reeves, started a company called Michael Jordan Golf. Reeves arranged for a golf game between Jordan and Rose at the Merit Club in Chicago. "On the 15th hole Jordan asked Rose for some advice. Jordan listened. His next shot split the middle of the fairway."
Bill spent seven years at Wakonda, leaving in 1969 to better care for his growing family and began a long career in insurance sales. Bill remained active in teaching golf and served as the Drake University golf coach from 1972 to 1979. In 2006, Bill was inducted into the Iowa Golf Association Hall of Fame, the same year he returned to Wakonda as golf professional emeritus.
McCoy, as winner of the 2013 U.S. Mid-Amateur, qualified to play in the 2014 Masters. Bill had passed away in February of 2013. Reportedly, during Mike's time at Augusta, Bill's ashes were scattered on the grounds of the cathedral of golf, Augusta National.
Following Bill Rose as Wakonda Club pro was Jack Webb. Jack was a native of Spirit Lake where he was star athlete. Jack began his golf abilities as a caddy at Brooks GC in Okoboji. He was WWII veteran, serving in the Army Air Corps, flying 25 B-24 missions. Jack was captain of the golf team at Iowa State, helping the Cyclones earn an NCAA Finals berth in 1949. Jack went on to a brilliant post-college amateur career. He was a two-time Iowa Amateur Champion, with his first title coming against his brother Don in 1949, winning 6 and 5. He won the Waterloo Open in 1954 and the Northwest Amateur in 1958. His second Iowa Amateur title came in 1960, when he won the tournament held at Wakonda. Jack won the North Dakota Open in 1965.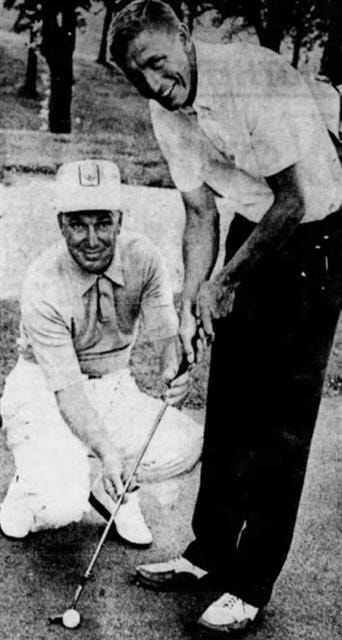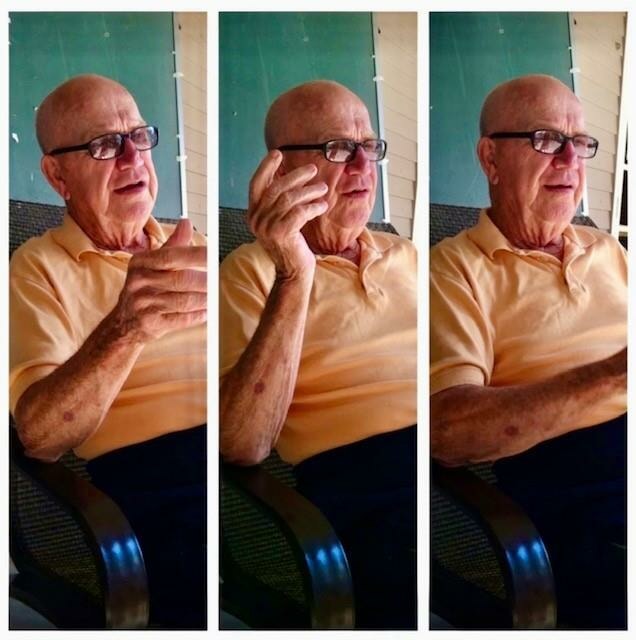 Following college Jack became a teacher-coach at Atlantic High School, and head golf pro at Edgewood CC and Fargo CC in Fargo, ND, before joining Wakonda in 1968. While a pro in Des Moines, Jack won the Iowa PGA Section twice, was Player of the Year, and the Iowa PGA Section Senior Championship thirteen times. He played in two PGA Championships and four U.S. Senior Opens. Jack was a director of the National PGA and worked the 1983 Ryder Cup.
Jack served as head golf professional at Wakonda for 19 years, retiring in 1987. While Jack was pro, he hosted and played with many professional golfer stars at Wakonda, including Arnold Palmer, Jack Nicklaus, Lee Trevino, Johnny Miller, and Greg Norman. He also mentored many amateur golfers successful golf pros. Webb's son Jim was a standout golfer for the Cyclones, competing in two NCAA Regionals. Webb was inducted into the Spirit Lake Sports Hall of Fame in 1973 and the Iowa Golf Association Hall of Fame in 2007. Jack passed away at the age of 92 in February of 2016. Jack was one of the most influential golfing figures in Iowa.