< BACK
NCAA Golf Rooted at Wakonda
Written by Guy R. Cook
The Wakonda Club has been the site for numerous prestigious golf tournaments for a century.
Many are aware Wakonda was the site of the 1939 NCAA National Golf Championship, held at the club in late June of that year, but few are aware that the tournament was the very first NCAA sanctioned golf tournament ever held in the country.

Competition for the event was fierce. The selection of Wakonda was made only after, "spirited bidding in which San Francisco, New York, St. Louis, Detroit, and the famous courses of Inverness (site of four U.S. Opens and two PGA's) and Scioto CC (host of the U.S. Open, PGA, Ryder Cup, and U.S Amateur) sought the event."
Wakonda became, "the first course west of the Mississippi river to be selected as a site for a national intercollegiate golf tournament, one of the country's two top-ranked amateur links events." It was the first time a national tournament was staged in Iowa.
Chick Evans, "the old monarch of the amateur realm," was the head of the NCAA golf committee that selected Wakonda. Evans, winner of the Western Open, was the first amateur to win both the U.S. Open and the U.S. Amateur in the same year. He played on four Walker Cup teams and competed in a record 50-consecutive U.S. Amateurs in his long career. Evans said Wakonda, "Ranks among the first-class courses in the country." He played Wakonda in a practice round in May of 1939 and said, "These greens are as good as you'll find at Oakmont and Brookline, they have two qualities a green should have — they catch the ball and they run true." He remarked, "These will be the finest greens the college boys have ever played on." Evans described number 14 as a "magnificent hole."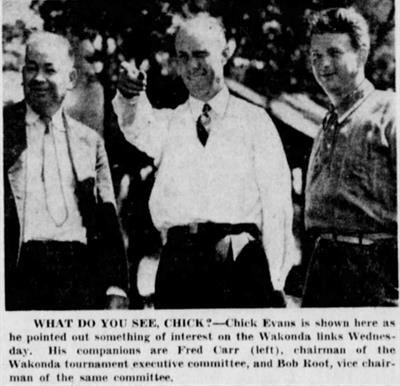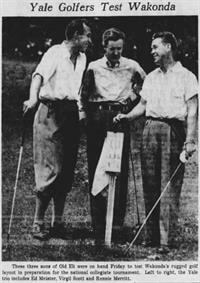 Following a practice round, the captain of the Yale golf team described Wakonda as, "a real championship course, tough enough for any tournament in existence."
The tournament was scheduled to be held from June 26 - July 1. Nearly 200 golfers, from 50 major colleges and universities, were invited to compete and "match shots." The Stanford University "Indians", the 1938 national team winner were invited to compete. A number of individual stars highlighted the field, including John Burke of Georgetown - the 1938 individual champion; Robert Babbish of the University of Detroit - the Western Open amateur champi-on; Des Moines native, Billy Cordingly, of Harvard and Centerville native, and state champion, Chase Fannon, of Northwestern - the Big Ten's individual titlist.
The University of Iowa sent a number of top golfers, including, Dick and Jim Hoak. Iowa State University sent former City Junior Champion, and captain "iron man", Tom Hoak, as well Billy Hall - former Iowa Amateur champion, among others.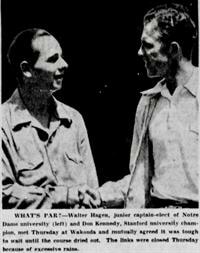 The Hoak family of Des Moines were tremendous golf enthusiasts. Dick served as captain of the Iowa team, and later became a founding member of the Iowa Golf Association. Jim was an accomplished amateur golfer, competing in two U.S. Opens and more that 15 U.S. Amateur Championships. He was a proud and long-time member of Wakonda. Tom remained an avid an accomplished golfer, winning a number of amateur events, including the 1966 Trans-Mississippi Amateur. He was a founding member of the Olympic Hills CC in Minnesota. The state of the art Hoak Family Golf Complex at the University of Iowa overlooks the sixth hole at Finkbine golf course.
The Hoak family continues to be associated with Wakonda, with current members David and Elizabeth. David served as club president in 1992.
Drake University, which did not have a golf team in 1939, went scouting for a half-dozen eligible players. Clyde Carney, a foot-ball player from Centerville (later a Hall of Fame coach, father of state champion, Iowa Golf Hall of Famer, and long-time Wakonda member, Jim Carney) was recruited to play. He played in the opening round with Walter Hagen Jr., captain-elect of the Notre Dame golf team, and son of golfing great, Walter Hagen. Carney, who was at Drake on football scholarship, shot an opening 95 (45/50) while using borrowed golf clubs and shoes. Hagen Jr., shot an 86 (43/43).
A number of other native Iowans competed in the event, including Sid Richardson of Creston, playing for Northwestern, and Kent Damon of Fort Dodge, playing for Amherst.
Robert Tyre Jones Jr., "Bobby Jones" (pictured above-left), arguably one of the most influential figures in the history of golf and founder of the Augusta National Golf Club, was invited to attend, but asked for a rain check in a letter he sent to the club.
Hugo Otopalik, Iowa State golf coach, was the tournament director. Wakonda members, lawyer, Fred Carr, and prominent banker, Bob Root, were chair and vice-chair, with Margret Ann Mulock (Bastian) Bannister assisting them. She recruited a group of Drake University sorority girls (Pictured left) to sit around Wakonda "for scenery." Hollywood stars Rita Hayward and Ann Shirley were in attendance, along with "veterans of the screen," and comedians, Roscoe Ates and Leon Errol.
After a grueling tournament, delayed a bit by rain, Stanford University repeated as champions, capturing the team title. Vincent D'Antoni, playing for Tulane, won the individual title.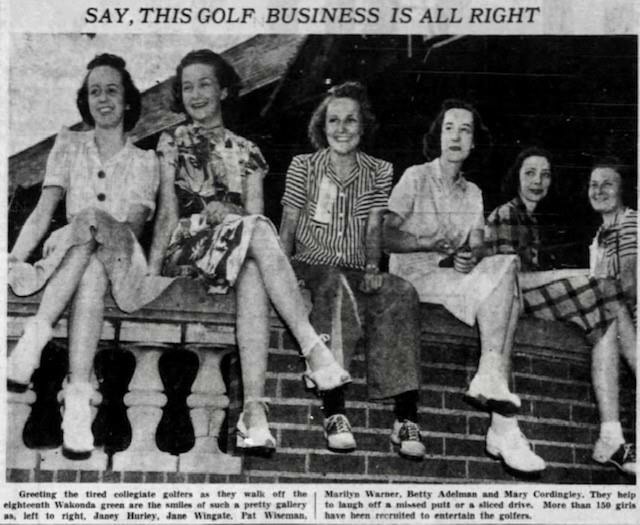 Iowa State placed third, and the University of Iowa seventh.
Sid Richardson, the golfing pride of Creston, had a terrific tournament, and claimed the medalist honors (144), with a, "rusty putter that had the glitter of gold in his hands." He was said to be, "perfectly attuned to Wakonda's treacherous greens, with his antique blade failing him only once." Kent Damon, scored a hole-in one on hole number 2, backing up his tee shot into the cup.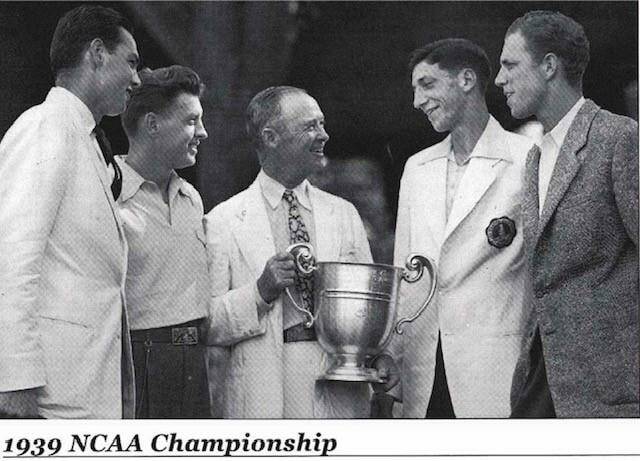 As Des Moines Register reporter, and Iowa Golf Hall of Famer, Bert McGrane, wrote, "Wakonda took it's place among America's toughest golf courses."